Law Offices Of Catherine Ken
805 W. Duarte Rd., Suite 104
Arcadia, CA 91007
Phone: (626) 821-8757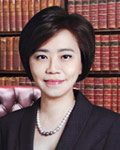 Catherine Ken
Founder and Leading Lawyer
Law Offices of Catherine Ken
Phone: (626) 821-8757
Fax: (626) 821-8753
Email: info@catherineken.com
---
Catherine Ken has over 30 years of experience in law practice. As one of the very few attorneys licensed to practice in both the United States and Taiwan, Catherine's legal education and experience in both countries give her practice a unique multicultural focus which benefits clients engaging business and investment involving China, Taiwan and the U.S.
After graduating in 1986 from the prestigious National Taiwan University Law School, Ms. Ken passed the arduous Taiwan Bar Exam on her first attempt and became the youngest practicing attorney in Taiwan at age 22. Within the first three years of her law practice, Catherine was involved in diverse cases that honed her advocacy skills in civil litigation, intellectual property litigation, maritime litigation, and criminal defense.
Given the rapid growth of Taiwan's economy during the late 1980's, the burgeoning international business activities motivated Catherine to study law in the United States to acquire a broader international perspective. In 1991, she earned a LL.M. degree from Harvard Law School where she studied corporate and business law with a concentration in mergers and acquisitions.
While on the Harvard campus, she observed her schoolmates including President Barack Obama advocated for greater diversity on the law school faculty. She found it impressive that even in the U.S., there was still demand for improvement, so she made it a hallmark of her work ethic to seek continuous expansion.
After graduating from Harvard Law School, Catherine worked as senior attorney in Lee and Li, the largest law firm in Taiwan, where she represented multinational companies in business transactions and litigations. By 1996, she passed the California Bar and started her own law firm in Los Angeles serving the local Chinese American community for business transaction, estate planning, immigration, and civil litigation. Her devotion to the Chinese community in Southern California is reflected by her terms as president of the Taiwanese American Lawyers Association in 2000 and 2001 and involvement in local Chinese American groups and organizations.
Catherine's unparalleled cross-border legal experience and tie to the USA and Chinese business communities enable her to effortlessly assist clients of multicultural background and those engaging business activities among the U.S., China and Taiwan. She advocates vigilantly for optimal client outcomes and embraces diverse ideas and creative solutions within the full breath of the law.